PVC gypsum ceiling tile
is made of high quality paper-faced gypsum board with a layer of PVC on surface and aluminum foil on its back. It is a kind of environmental friendly, light weight, high quality, fireproof, waterproof and corrosion-resistant decorative ceiling board.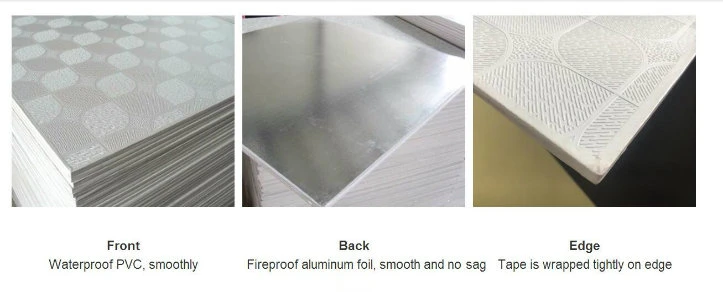 Length( mm )

Width ( mm )

Thickness ( mm )

Edge

595

595 1195

7.0 8.0 9.0




Covered / Non-covered

600

600 1200

603

603 1206

605

605 1210

Pvc Gypsum ceiling tile is available to be produced the thickness from 7.0-12mm, the design according to customer requirements: Thickness 8.0-25mm.




Both Metric and Imperial systems are accept
Feature:
1) Surface: Imported or domestic PVC Film.

/ Painting


2) Back: Aluminium foil

/Non-woven fabric




3)Edge: square and Fell level


4).Environment protection product: Adopting natural gypsum material free of any harmful material.
5).Non-flammable B1, in accordance with Chinese standard GB8624-1997
6).Not deforming, not cracking: keeping integrity and sound insulation for long under normal changes of.
7).Light weight, convenient to transport.,Corrosion-resistant, Non-dust, Easy clean
3.production process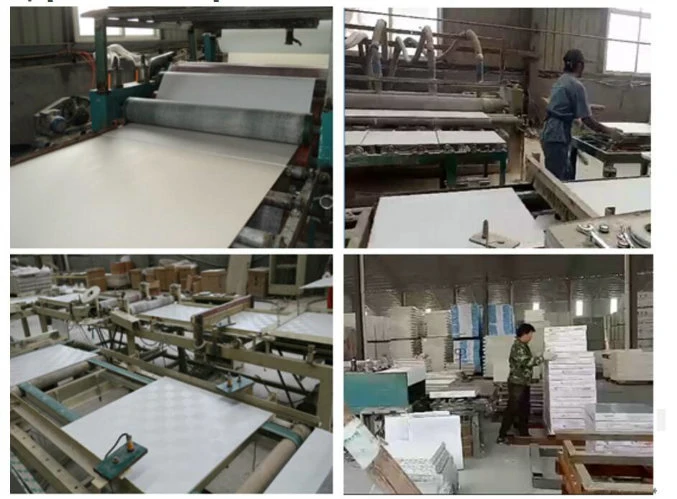 Application
Gypsum ceiling tile can be widely used in high fireproof and waterproof requirement environment, such as hotel, hospital, school, house and factory etc.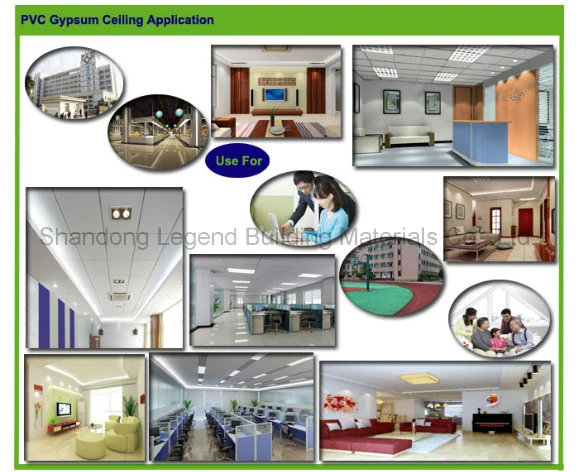 Installation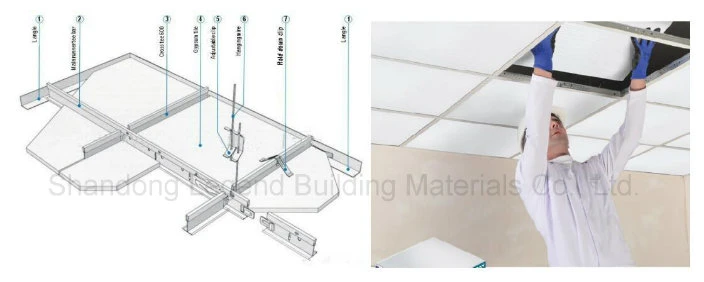 Step 1: Construct a pair of T-braces from 2 X 4s about an inch longer than the distance from floor to ceiling. Nail 2 X 4s about 3 feet long to one end of each longer 2 X 4 to form the Ts. Alternately, adjustable T-braces can be rented.

Step 2: Cut drywall panels to size. Use a sharp utility knife along a straightedge to cut drywall. After you make the cut through the face paper, place the board over a length of 2 X 4 laid flat on the floor, or some other type of support, and snap the scored section down. The gypsum core will break along the line you cut. Then turn the panel over, cut the paper on the other side, and smooth the rough edges with very coarse sandpaper on a sanding block.

Step 3: Install drywall panels on the ceiling. If possible, try to span the entire width with a single sheet of wallboard to reduce the number of joints. Position and wedge the T-braces against the drywall sheet to hold it in place until you finish nailing it.

Step 4: Drive nails at 6-inch intervals into all the joists covered by the sheet. Start in the center of the drywall panel and work out. Give each nail an extra hammer blow to dimple the surface slightly without breaking the face paper.

Step 5: When the ceiling is finished, cut and install wall panels. Carefully measure for any cutouts in the drywall, including electrical outlets, switches, or light fixtures. To make cutouts, draw a pattern of the cutout on the wallboard, drill a hole on the pattern line, and then use a keyhole saw to follow the pattern.

Step 6: Space the nails 6 inches apart along studs, but start nailing 4 inches from the ceiling. Butt the wall panels against the ceiling sheets. Dimple all nails. Nail metal outside cornerbeads to cover any outside corners.
Popular Color design
We have more than 100 designs, including white and colorful, if you want to know other designs, feel free to contact us any time!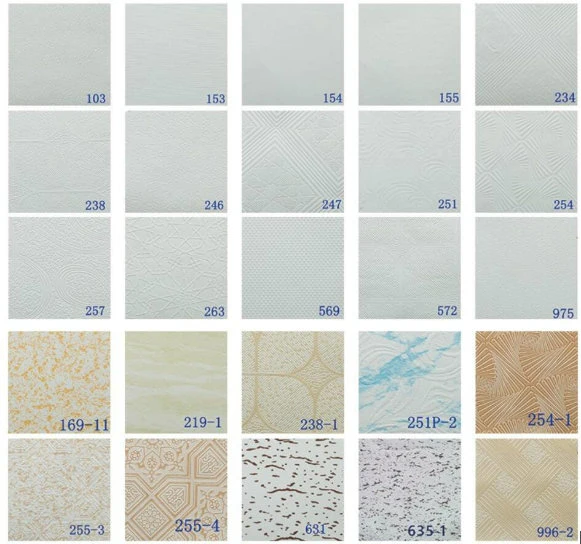 Packing&Delivery